Leading Garage Conversion Specialists in Kent
We often get asked to undertake garage to office conversions throughout Kent & Sussex. Due to the size of modern cars, garages in the UK are rarely used as a place to park a car and instead, they end up being used for storage and under-utilised. Why not convert a garage to an office, gym, utility or bedroom?
Converting a garage into a usable room is a great way to make better use of the space and add value to your house. Worried about the cost of a garage conversion?  Converting a garage to an office, bedroom or similar is generally 70% cheaper than adding a similar size extension as the structural shell is already in place.
Here are a few pointers and a quick idea on what to expect when undertaking a garage conversion with us.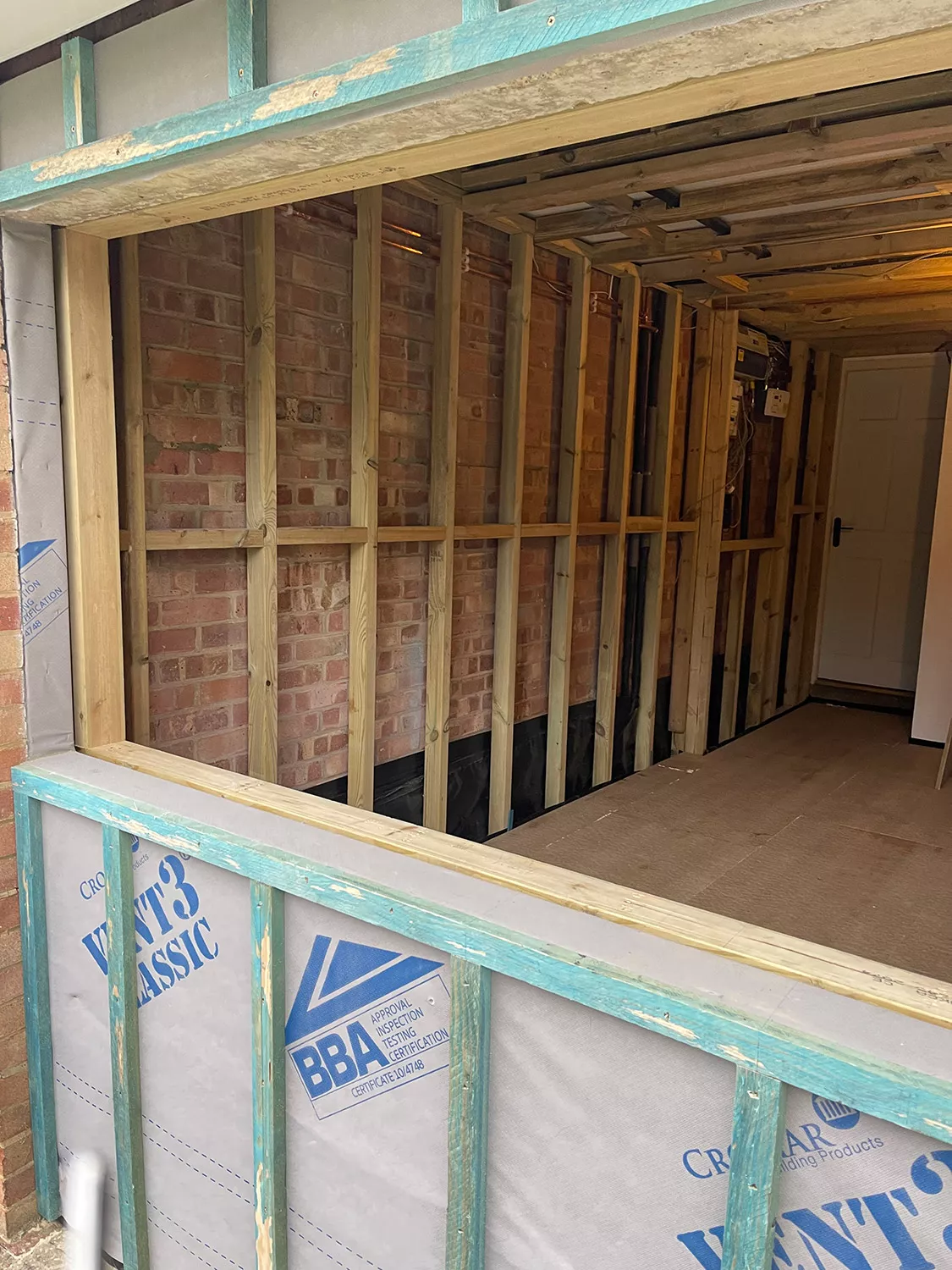 Things to consider during your Garage Conversion
There are a few things to consider before undertaking a garage conversion project of your own. We've broken them down on this page to help you gain a better understanding on the process and the various options available along the way.
Planning permission for a garage conversion usually isn't required as integral garage conversions tend to fall under permitted development. A Building Control application will be required in either the form of technical drawings of your garage conversion plan or on more straightforward schemes, the building notice route may be sufficient. This is done by informing the local authority of your intent to start work 48 hours before commencing on site. A Building Control package is a set of technical drawings and construction details that are submitted to your local council for approval to ensure it will be built correctly, using the correct building standards. The package needs to show that the proposed garage conversion will be built correctly, and safely and that it will meet (or exceed) the national minimum requirements for things like insulation and how the flooring for a garage conversion will be adapted.
Flooring for a garage conversion
An existing concrete garage floor might well be strong enough to cope with general domestic use, however, the garage floor will most likely not be level. As a result, it may need to be levelled with a self-levelling liquid screed. It may also be damp-proofed with a suitable membrane (lapping into the walls' DPC) and insulated with rigid insulation to achieve adequate thermal performance within your garage conversion.
Quite often an integral garage floor will fall away from the house to ensure dangerous fumes from cars are dispelled under your garage door. During our initial consultation, we'll run through the various options available for your garage conversion flooring and where possible would always recommend insulation be added.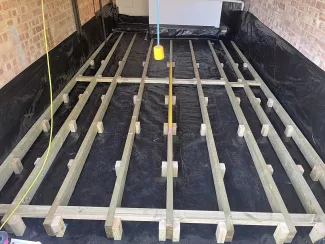 Remove and replace garage door
The most common option with a garage conversion is to replace garage door with wall and window. A conventional brick wall will then be made to match the rest of the property. This could be a masonry infill fully toothed and bonded into the existing brickwork, or a timber partition wall to allow for cement board cladding and thicker insulation for your garage conversion. 
The design stage assessment of your garage conversion should identify whether the foundations need upgrading to take the new loads. Planning allowing - you could introduce more daylight into the space by adding a window or a glazed access door.  This may also help reduce the loads imposed on the foundations.
Looking to convert a garage to an office or garden studio? Sometimes it's possible to open up the side of your garage and incorporate bifolds or french doors into garden spaces. This is a great way to utilise old garage space during a conversion.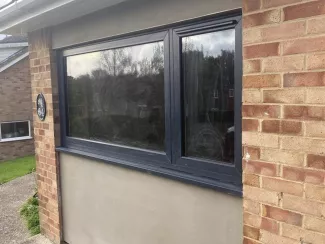 garage conversion insulation requirements
Some garages are built to the same standard as the main house (with cavity wall insulation) so the walls may not need upgrading. It is however more likely to be a single skin garage. This must be insulated internally to meet minimum garage insulation standards.
Typically the new insulation in your garage stud walls would normally be 90mm plus an air gap. This also provides a hidden route for additional electric outlets or things like central heating pipes within your soon-to-be converted office, bedroom, utility or kitchen space!
Another option with your garage conversion could be to retain part of the space (and even the door), to create a smaller storage area or if your garage is large enough - you could even retain space for a single car. If you go down the part conversion route, we'd need to erect a fully insulated, internal garage partition wall that is designed to provide 30-minute fire protection. This can be done by erecting a fully insulated timber stud wall that's boarded on both sides with a fire-rated pink plasterboard.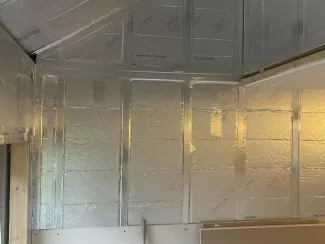 Garage Roof insulation
The simplest way to insulate a pitched garage roof during a conversion is at loft/ceiling level. With a pitched covering, 270mm of mineral wool should be sufficient – 100mm between the joists, and the rest on top.  A flat roofed garage conversion will need to be fitted with rigid insulation between and under the ceiling joists, with a ventilation gap above to prevent condensation.
If the floor-to-ceiling height is tight a slim multifoil system can be used as a space-saving alternative.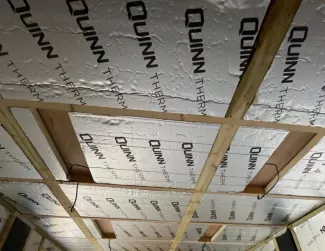 Adding Windows and doors to your garage
When looking to install a window or door to a garage conversion we always install ones that match the existing ones found throughout the house. FENSA specify will need to hit the required whole-unit U-values (1.6 W/m2K for windows; 1.8 for doors).
Casements, sashes, and door sets can be incorporated into additional exterior walls by knocking through a suitable hole in the garage wall, facing brickwork, and adding lintels as required.  We will always try to match your security expectations, provide adequate ventilation and suit the style of your home. 
For larger spans enabling a more open plan garage conversion - a reinforcing steel beam may be needed in your garage walls. This kind of work may require calculations from a structural engineer but can transform a space and be an amazing addition if you're looking to convert a garage to an office.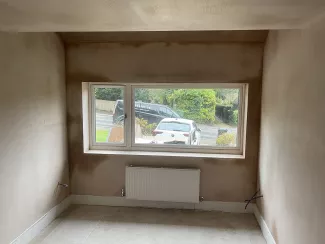 Garage Heating & Electrics
LED downlights are a good choice for ceiling illumination in most garage conversions. They can be easily integrated into the new ceiling structure. Adding additional sockets within the garage can also easily be done so it's worth thinking about what you plan on doing in your garage conversion when finished to ensure adequate plugs are accounted for.
Heating-wise, plumbing in a suitably sized radiator will be the most cost-effective solution for the majority of garage conversions. Ventilation is another key issue. Openable windows, fitted with trickle vents, will be sufficient in most cases – but if you're converting a garage to a kitchen or bathroom, you'll need a powerful enough extractor fan to manage moisture build-up in your newly converted garage.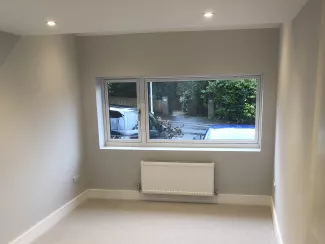 Interior & Garage conversion Finishing ideas 
Once the initial work is complete we'll finish off your garage conversion by plaster-boarding all internal walls, allowing for a two-coat multi-finish plaster. Once dry all walls will be mist-coated white and finished in a paint RAL colour of your choice.
Finally skirting board and architraves will be installed (generally to match existing throughout the house) and the newly converted space will be finished with wood flooring or carpet.
All that's left then is for you to move into your newly converted garage and use the space to its full potential.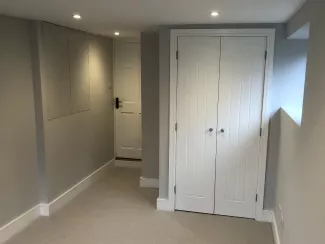 Book an appointment
Reach out to discuss your new project today and a member of the team will get back to you to run through the next steps.