Walking you through the process
If you are looking for either a simple kitchen installation or a full kitchen renovation we can help you.  Transforming any tired space,  Even better, it can typically around 6-8% Value to your home. 
From the initial design process, we will put you in touch with up to Three hand picked kitchen suppliers to suit your budget to help design and provide your dream kitchen. There is truly no detail that cannot be completely customized so you'll be sure to love every area of your new kitchen. 
From cabinet materials, style, finish and colour, lighting fixtures, worktops and appliances. you'll have endless choices that will allow you to make your kitchen truly your own.  With over 15 years of experience within the industry working closely with trusted, hand-picked contractors. We work solely as the main contractor meaning there is only one point of contact for you, the customer streamlining the entire process. 
Offering a full package ranging from ;
Kitchen removal / Kitchen supply / Kitchen Installation / Building works / Windows and door replacement / Plastering / Plumbing / Electrical works / Tilling / Flooring / Decoration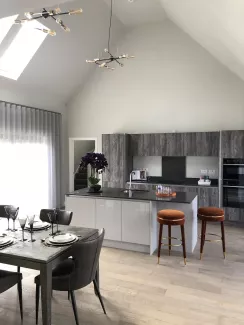 Kitchen Renovations And Refurbishments 
With a full service kitchen refurbishment you don't have to remove your existing kitchen out if you're already happy with the units and design layout.
By renovating your existing kitchen you can save up to 50% less than the cost of a full kitchen re-design and installation. New kitchen doors, worktops, tiling and appliances can all be changed to fit your existing units, whether you are looking for a classic solid timber shaker door or a contemporary high gloss door we will help you with this design process to help you achieve your dream kitchen renovation. 
Worktops can also be changed to suit any budget, ranging from Compact Laminate, Laminate, Solid timber worktops to Quartz / Solid stone.
Full ranges of samples can be provided during the initial free design process of door styles and shades, worktops, flooring and tiles to ensure they are correct in your home. 
Replacement worktops (Laminate, Wood or quartz) / Replacement appliances / Replacement Doors, End panels, Plinths and cornice / Replacement lighting / Replacement Tilling / Coloured Alu Splashback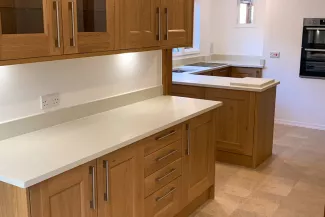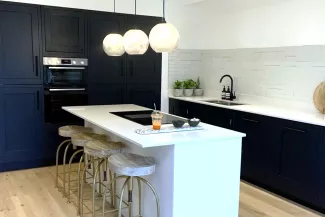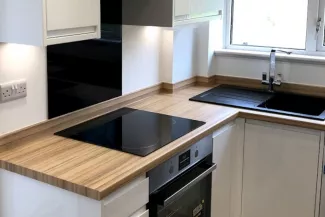 Verified Check-a-Trade Reviews
Sam and his team fully renovated our kitchen with a Howdens kitchen, they were efficient and thorough, communication was brilliant, and I was kept updated on timeline and progress constantly, I would recommend Brooks & Co Developments to anyone.
Sam and his team were punctual, professional and efficient. They answered all my petty questions, offered advice and took my wishes into account. I was impressed with their teamwork and that they seemed to enjoy themselves. I would definitely use them again and recommend them to anyone in need of good carpentry work.
Excellent job by Sam and the team. Job involved ripping out old kitchen and replacing with a shiny new Howdens one. Communications from Sam were excellent from the quote to job completion. Sam project managed all the necessary work and each one of the jobs (plastering, plumbing, electrician, painters and waste disposal) was carried out with the utmost courtesy and professionalism. Sam's wasn't the cheapest of the quotes I received but if a job's worth doing... Can't recommend this company or the sub-contractors highly enough.
My wife and I were very impressed with how everyone worked and the quality of the finished project. Sam Brooks and his team took on our kitchen project from the design submitted by Wickes. Sam acted as project manager liaising with an electrician, plumber, floor fitter (separate contract) and decorator to cover the parts of the project he and his partner did not do. Everyone involved worked well together, were always polite, were extremely tidy and followed the laid down schedule. Really cannot fault anything. Highly recommended
Book an appointment
Reach out to discuss your new kitchen refurb project today and a member of the team will get back to you to run through the next steps.